WHAT ARE DENTAL IMPLANTS?
Artificial Tooth Roots
Dental implants are artificial tooth roots that are made from titanium or other biocompatible materials. They are surgically implanted into the jaw and fuse with the bone tissue over the course of three to six months. This process of the implant fusing with bone is known as osseointegration. When the site is fully healed, dental implants can support crowns, bridges, or dentures, providing an appearance and stability comparable to natural teeth.
Countless Patient Benefits
Implants offer countless benefits over removable appliances. For one, implants are far more secure than dental adhesives. Your replacement teeth will not shift out of place while biting, chewing, or speaking. Dental implants also prevent the loss of jawbone density, a common problem that affects people with missing teeth. Left untreated, even a single missing tooth can cause the face to look sunken and aged. Bone loss can also loosen nearby teeth.
WHY CHOOSE OUR IMPLANT DENTISTS?
Experience and Training
Dr. Jonathan Earp has extensive experience with implants, which includes training by Dr. Urs Belser and completion of the Straumann Dental Implant symposiums. In his years as a dentist, Dr. Earp has placed numerous implants to restore the upper and lower dental arches.
Professional Dedication
Our dentists are members of societies that focus on implants, including the International Team for Implantology, the International Congress of Oral Implantologists, the American Society of Implant and Reconstructive Dentistry, and the American Academy of Implant Dentistry.
Advanced Technology
We use iTero® scanners for detailed 3-D images of the teeth and dental arches. This allows us to determine exactly where a patient's dental implants should be placed to ensure maximum stability. The technology also helps us determine whether a tooth should be extracted or not.
High-Quality Materials
Pruitt & Earp Dentistry uses high-quality implant products from Zimmer®, Straumann®, and Nobel Biocare. These are industry leaders, known for their craftsmanship and durability. Our practice also has CEREC®, which allows us to craft custom tooth-colored restorations in one visit to our practice.
CANDIDATES FOR DENTAL IMPLANTS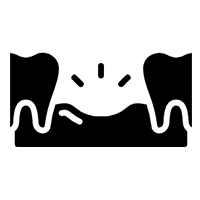 Missing a Tooth or Multiple Teeth
Implants can be placed if you are missing just one tooth, a few teeth, or even all of your natural teeth. Our dentists will determine the number of implants you'll need as part of the consultation process.

Healthy Enough for Oral Surgery
While implant surgery is safe, patients in poor health or with certain medical conditions may not be suitable for the procedure. During your visit to our Greenville-area practice, we can review your medical history.

Sufficient Jawbone Density
Since the dental implants are anchored directly into the jawbone, patients must have enough bone density to support the implant. Bone grafting surgery, which restores lost bone tissue, can greatly increase your candidacy for implants.
Bone Grafting Surgery
IS AVAILABLE AT OUR OFFICES
If you need a bone graft, we can perform this preparatory procedure at our practice. Bone grafting will delay your implant placement surgery by a few months, but it is an important step to take if you have suffered from tooth loss for an extended period of time. Your bone graft can make all the difference for successful treatment with implants.
YOUR DENTAL IMPLANT OPTIONS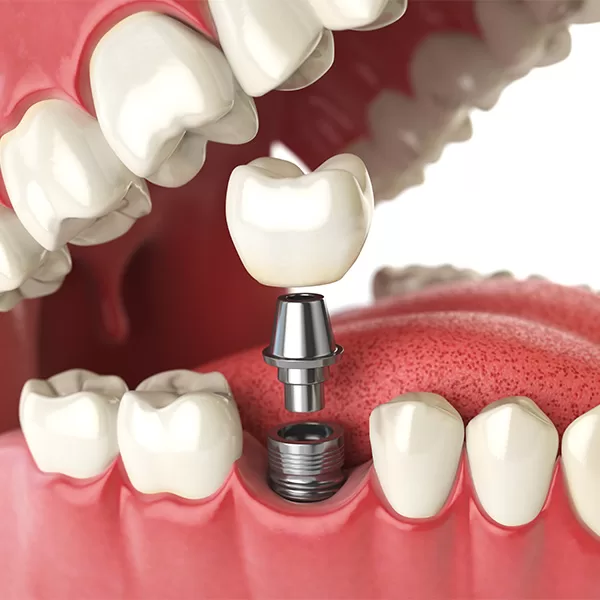 Implant-Supported Crowns
When a patient is missing one tooth, a crown supported by a dental implant is an ideal treatment option. The crown is either screwed in place onto the implant for ease of maintenance, or it can be cemented in place depending on which tooth is missing. In addition, the crown can be made from custom-milled porcelain using our CEREC system, or from durable zirconia at an off-site dental lab.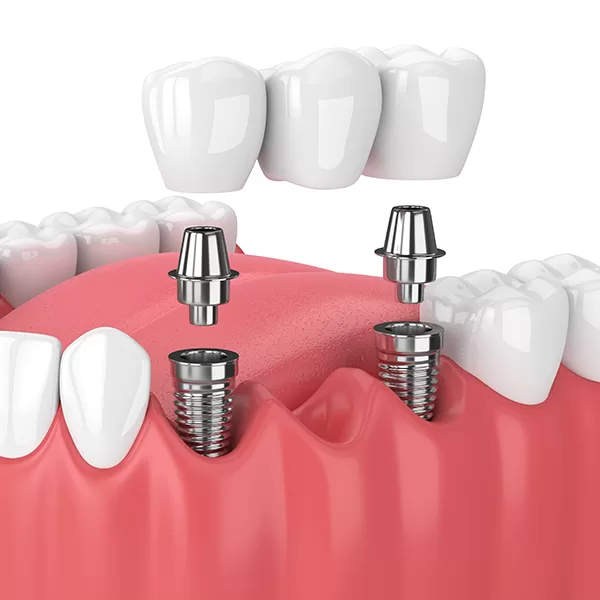 Implant-Supported Bridges
An implant-supported bridge is recommended when a patient is missing multiple consecutive teeth. The bridge will be anchored in place along the dental arch, filling the gap while also restoring normal oral function. The number of dental implants required for the bridge will depend on the location of the missing teeth. The bridge itself can be custom crafted from high-end zirconia.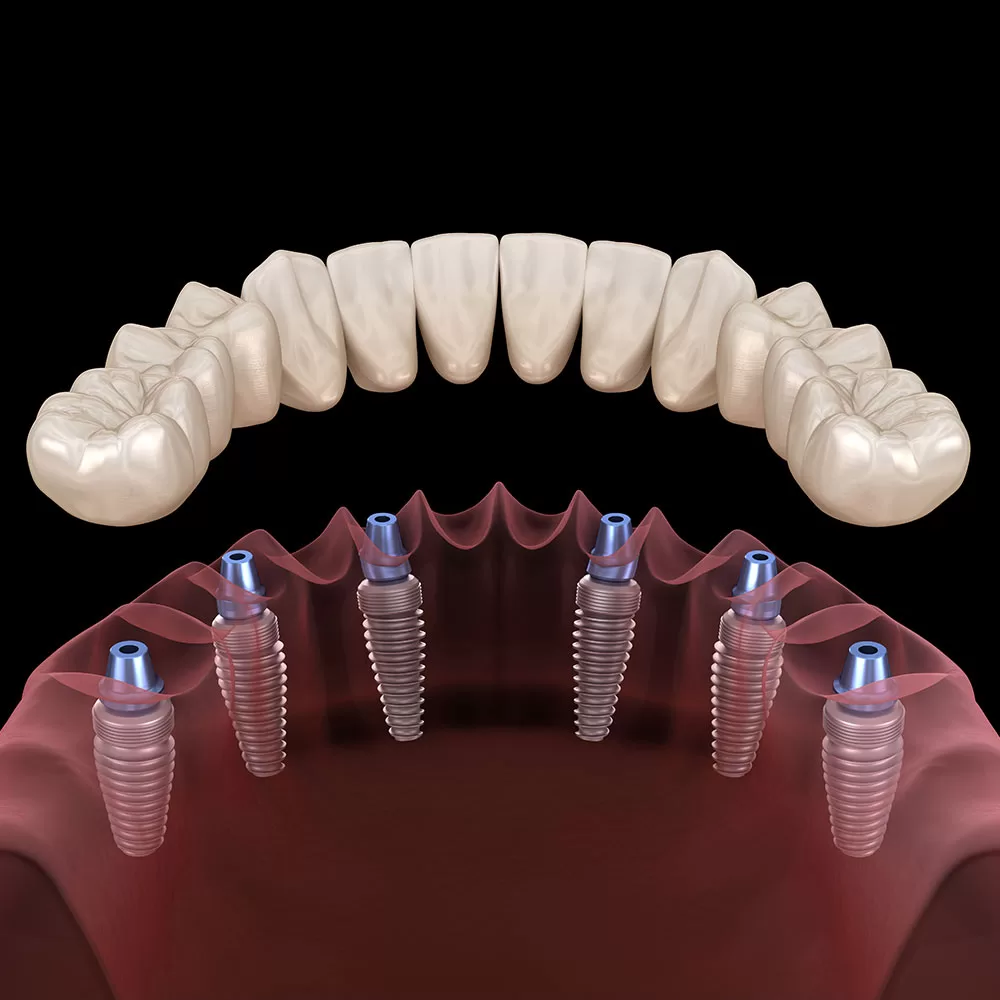 Implant-Supported Dentures
Implant-supported dentures are ideal when a patient is missing most or all of their teeth. The denture will be anchored in place with multiple dental implants. The exact number required will be determined by the needs of the patient and the health of their dental arch. The final custom denture will be crafted so it is virtually indistinguishable from natural teeth.
IMAGINE FEELING TOTALLY CONFIDENT IN YOUR SMILE AGAIN…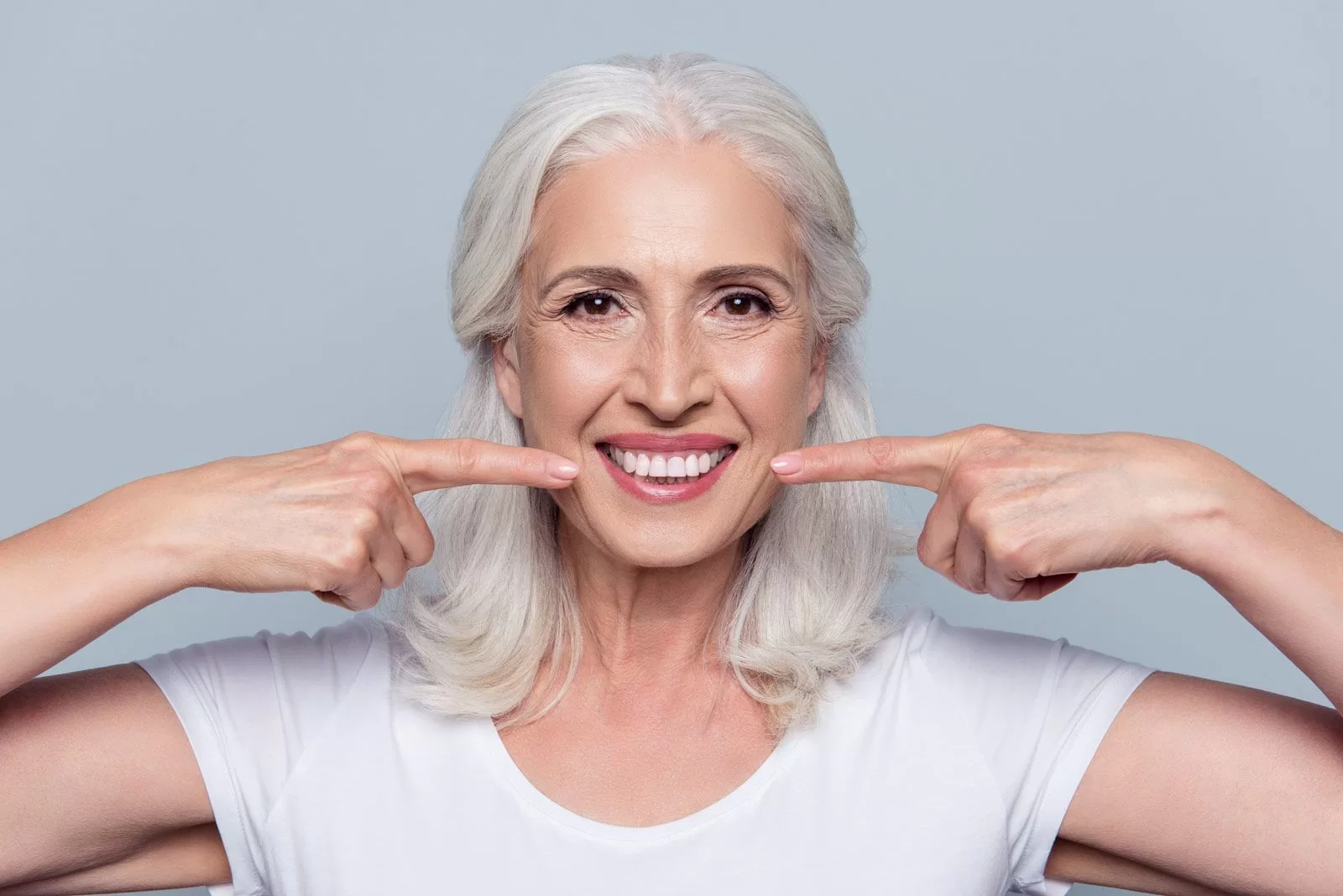 Is the Implant Process Painful?
WE'RE HERE TO PUT YOU AT EASE
Rest assured that getting a dental implant involves very little pain. In fact, thanks to local anesthetic, dental sedation, and modern pain management techniques, the process is virtually painless.
THE DENTAL IMPLANT PROCESS
Initial Consultation
During your initial consultation at our Greenville or Plymouth office, we will perform a full dental exam to determine if implants are right for you. We can answer any questions you have about dental implants so you can make an informed decision about your oral health.
Implant Placement Surgery
During this procedure, your dentist will make an incision along your gumline to access your jawbone. The titanium implant will be anchored directly into the bone. You might receive a temporary restoration at this time.
Osseointegration
Over the next three to six months, the titanium implant will fuse with your jawbone. This integration of the dental implant into the structure of your jaw is crucial for the success of your treatment.
Abutment Placement Surgery
This procedure will take place after osseointegration is complete. Another incision will be made into your gum tissue to place the abutment, which serves as the connection between the dental implant and the final restoration.
Brief Recovery
It only takes about two weeks to recover from abutment placement surgery.
Fitting Your Restoration
The final part of the process is placing your permanent crown, bridge, or denture at our office in Greenville or Plymouth. Your dentist will adjust your restoration as necessary to ensure it's completely stable and comfortable in your mouth.
HOW LONG DO IMPLANTS LAST?
Titanium implants can remain in place for a lifetime, and your restorations can last for upwards of 15 years. Our dentists can explain maintenance tips, such as proper brushing techniques and making regular visits to our Greenville or Plymouth office, that can help your beautiful new smile last longer.
THE COST OF DENTAL IMPLANTS
A dental implant costs $1,600 at our practice. This price is just for the implant itself, and does not take into account the replacement tooth or teeth, or the abutment used to secure the implant restoration. The final cost of treatment will depend on the nature of your tooth loss.
Insurance Coverage
It is important to understand that implants are not usually covered by insurance, although your restoration might be. Pruitt & Earp Dentistry is in-network for most types of dental insurance and we will work hard to maximize your coverage.
Package Pricing
Pruitt & Earp Dentistry offers package pricing for single-tooth replacement starting at $3,250. This package price includes the dental implant, the custom dental crown, and the abutment. We can discuss pricing for implant-supported bridges and dentures during your consultation.
Financing Options
We don't want costs to be a barrier between you and your beautiful new smile. Our team offers financing through CareCredit®, a lender that provides loans with low or no interest and affordable monthly installments.
WHY CHOOSE OUR DENTISTRY OFFICE?
Experience Exceptional Care and Transformative Results
One-Stop Shop
Our dentistry offices offer a variety of general, restorative, and cosmetic procedures to meet our patient's needs. We rarely have to refer patients out because of our dentists' breadth of knowledge.
Competitive Pricing
Our office offers top quality dental services at competitive prices. We also accept most insurance providers and monthly financing for patients who don't have insurance or who's procedure is not covered.
Knowledgeable Staff
Having three dentists on our team means having a staff knowledgeable on various specialties. All of our dentists are highly trained and take continuing education courses to stay up-to-date on the latest dental trends.
WHAT OUR CUSTOMERS HAVE TO SAY
See What Our Satisfied Patients Are Saying About Us
Great Vista at Pruitt & Earp Dentistry. Staff is great Dr. Wagner awsome at her job. Made sure everything was perfect before it was finished. Her assistant Karen did great. Kelly was good with with helping. And my hygienist even came over to say hey. Love Emily as hygienist she cares as well.
JC is the best dentist hygienist I had X-ray technician was very helpful had my crown completed also with my cleaning! Awesome staff! Dr. Earp is always great.
Been going to Pruitt & Earp Dentistry for 5 years. I've always had excellent service and care. I met Dr Pruitt today and didn't even know that he gave me a needle, very gentle procedure. The office staff and especially the dental assistants are amazing. They are personal, warm and welcoming. I would highly recommend this dentistry to anyone.
I found Dr, Earps staff, friendly, courteousness and efficient. The office was immaculate and their COVID precautions exemplary and should be adapted by other medical practices. All in all I would highly recommend the entire practice and staff.
Emma was so nice and informative while doing my cleaning today. She really cares about her work and educates her patients esp. when it comes to gum disease. I'm looking forward to my next visit in December.
First off, nobody loves going to the dentist. It's one of those things that just doesn't bring happiness. However, the staff is incredibly kind and Mrs T is the absolute best dental hygienist! She makes me want come back just to be in her presence. She impacts my day in such an incredible way and I am so thankful I have her!
The staff and dentists are always professional. The office is always clean. I feel very comfortable with them taking care of my teeth. Thank you. You guys rock!!
Everyone is always the sweetest! From the desk staff, to hygienists to the dentist! Always a good experience! My daughter and I always go at the same time for our cleanings and I know she's in good hands. When you have a child that says she loves going to the dentist... well they must be doing something right!
I have been a patient of Dr. Earp's since the beginning on Charles Street. What a wonderful Dentist. Professional and really nice, down to earth. I recommend him to anyone who is looking for a Dentist, who will get the job done and correctly. His staff is amazing, super friendly and willing to answer any question I have. Karen is so friendly, she's been working on me with Dr. Earp since the beginning close to 20 years soon. The best people who always make me feel and look good. As my many issues with my teeth, I feel more confident when I smile. I have lots of work to go, I am confident in Dr. Earp and his staff.
My visit today was better than I expected!! I had a tooth that needed to be extended!!! .... No pain at all everyone was so friendly. I had a very good experience. I most definitely will be returning for our future dental needs as well as my family!!
Matthew S
11. July, 2023.
Professionally trained & competent staff. Well organized & with great attitudes. Latest technology & efficiently handled my severe dental issues with grace & ease. Dr. Ryan Pruitt is certainly one of the best, if not the best that I've had to help me with procedures & options and then to triage my appointments for the best way through the maze of issues facing my dental needs. Hat's off to Pruitt Denistry-come out & experience the difference.
Kaitlyn did a wonderful job today cleaning my teeth! She always makes me feel comfortable and cared for! The entire staff is friendly and welcoming
Brianna M
11. July, 2023.
I came here recently to get a consultation to see what will be needed to restore my smile. The whole staff was super friendly and very welcoming and professional. I will definitely be coming back and would recommend anyone to visit this place in the Greenville area!
My hygienist was very personable and very informative. My cleaning was thorough and painless. I really appreciate Pruitt Pruitt & Earp Dentistry!
Dr. Pruitt is the best! I called this morning for a fractured tooth and he got me in the same day and completely fixed my problem without making me come back another day. So convenient! His professionalism, excellent patient-rapport, and compassion made "going to the dentist" for a problem a very pleasant experience. He will have my family's business, for sure.
Always a great experience from the moment you walk in the door. The front office staff are very welcoming. We love our dental hygienists. Each of the dentists are great too. They are gentle, yet very thorough. They make suggestions of work you need jowls and possible work needed in the future, but they are never pushy. This is.the best dental office I've ever been to!
Tonyetta B
11. July, 2023.
I had fillings done today and the staff were really kind and professional. The dentist explained everything that he was doing and made me feel comfortable. I would, definitely, recommend Pruitt & Earp Dentistry.
I always have a great experience at Pruitt & Earp Dentistry. This was my son's first dentist appointment and he was understandably nervous beforehand, however the atmosphere and professionalism of the staff made all the difference. I always appreciate the service provided by PruittEarpDentistry!
Jennifer D
11. July, 2023.
I had a root canal today and Dr. Earp and his team did an amazing job! Dr. Earp was patient and gentle. After all the horrible stories I have heard about a root canal, it was really easy peasy!
They were so so nice the nurse was phenomenal! The dentist did hurt me at all. He talked with me the whole time he was working on my tooth!!!! They both made me feel so comfortable because the dentist is not my favorite, but those two made me feel like they really cared about me and that meant a lot to me!!!! I would tell all my friends that's the place you want to go, if you have any problems with your teeth!!!!! Thank you
I have spent lots of time in the dental chair since I was a kid, and Pruitt & Earp Dentistry has by far been the best care I have ever experienced. Dr. Kline is a Rockstar! Run, don't walk, to Pruitt & Earp Dentistry for all your dental health needs!
COMPLETE LIST OF SERVICES
Experience Complete Dental Care with Us